The Paris Library by Janet Skeslien Charles
INTERVIEW WITH Janet Skeslien Charles
February 24, 2022
GENERAL QUESTIONS

How do you begin writing a new book?
With my first book, I heard a voice. (I promise you, it's the only time I've heard voices.;-) I built the voice of the character and the whole novel around these words she said to me: "You needn't pity me." The character, from Odessa, Ukraine, intended to make it on her own. And she did.
With The Paris Library, I had my character Dorothy Reeder, the librarians who defied the Nazis and hand-delivered books to Jewish readers. But I was afraid to put words in her mouth. I was so in awe of her that I did not want to make a mistake. So I created a young French narrator, which helped me tell Dorothy Reeder's story.
What was your favorite childhood book?
I loved all of Judy Blume's books. I also appreciated a series written for children about amazing women, from Marie Curie to Eleanor Roosevelt.
Do you listen to music while you write, or do you need complete silence?
Silence! And silence is hard to come by in Paris because there is constant renovation work. I try to wake up early, before the rest of the world, to get my writing in.
Do you think being a writer isolates you or connects you to other people?
I suppose it is different for everyone, but the act of writing does isolate me, especially since the characters I write are withdrawn and dealing with homesickness or difficulties with fitting in.
This is why I have so loved connecting with readers on Zoom. After years of seclusion, it feels great to be with book lovers to share our favorite novels and characters and bookshops.
What advice would you give to a new writer?
Read with a pen in your hand and to underline the passages that move you and to deconstruct the language to understand why the words had an effect on you. Characters' voices are like bridges that you build one word, one brick, one comma at a time.
I would say to work tough jobs because they create friction in your soul. Friction not only for writing about conflict but also friction in the experience of how people relate to each other. I've worked as a hotel maid and a waitress, and still remember how people treated me in that capacity. I've taught overseas where I did not understand norms and had to learn quickly. When you work, you long to be back with the page. I enjoy teaching very much, and am happy to spend time with students, but always return to my characters with relief.
For many writers, the act of creation is personal and solitary, but during the publication process, being an author becomes a team sport. You'll need help getting the word out about the book or help with social media. I only got on Instagram in 2019, and have so appreciated the help I received in learning how to post. It also gives me an opportunity to share the books I love.
Before I had a published book, I interviewed authors on my blog. Then when my book came out, those authors kindly interviewed me and talked about my work. As a writer, it is important to be curious and show interest in others. No matter where you are in your writing journey, you can be a good literary citizen and share the books that you love.
JANET SPECIFIC QUESTIONS

HOW DID YOU CONDUCT RESEARCH FOR THE BOOK?
I am an obsessive Googler, which paid off because each day archivists and librarians are adding to their online archives. I was able to find photos, letters, and documents from all over the world, from Boise, Idaho, to Bogotá, Colombia. I tracked down people via White Pages, LinkedIn, and Facebook. I read dozens of memoirs of women who lived through the war, from journalists to an American wife of a French soldier to a Parisian madam who entertained German troops. Each had their own fascinating point of view. I read several books on World War II and several years' worth of Library Journal to learn the concerns of librarians during the 1940s. To be honest, it's hard to stop researching! Over a year after the book came out, I'm still tracking down characters.
Janet Skeslien Charles: The case of the missing Jewish librarian from Chicago: Did she fall prey to the Nazis in France? Links to Chicago Tribune, opens in new window.
HOW DID YOU DECIDE TO WRITE A BOOK ABOUT THE AMERICAN LIBRARY IN PARIS??
When I learned about the history of the librarians during World War II, I knew it was a novel and sat down to write it. I wanted the world to know about Dorothy Reeder and her belief in books as bridges. Growing up, I loved the library. While working at the American Library, that love was rekindled. I wanted to share this appreciation of the library with readers.
WHAT WAS THE MOST SURPRISING THING YOU LEARNED ABOUT THE LIBRARY?
I learned that one incredible librarian leads to another. While researching The Paris Library, I stumbled upon the real-life heroine of my new novel, another American librarian in France. During World War I, this librarian of no man's land worked just miles from the front. After the war, she transformed ambulances into bookmobiles. I can't wait to share her story with you!
Dorothy M. Reeder (1903-1987)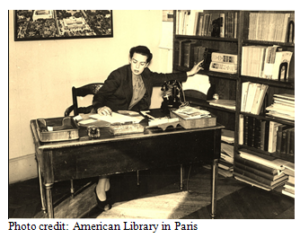 Dorothy M. Reeder (1903-1987) was born in Philadelphia, Pennsylvania, but her family moved to Washington D.C. when she was a child. She worked at the U.S. Treasury prior to joining the staff of the Library of Congress. In 1929, went to Seville, Spain, in order to prepare the Library of Congress stand at the Ibero-American Exposition. She was there for approximately four months. Miss Reeder then went to work for the American Library in Paris, starting in the periodical department and eventually becoming the director.
In 1941, she returned to the United States. According to the "Report of the Librarian of Congress 1942," Dorothy Reeder was sent to work at the Biblioteca Nacional at Bogota, Colombia.
She then returned to Europe with the Red Cross, first to England with a staff of 200, in order to set up American Red Cross clubs for American soldiers. She then went to Paris, just four days after the Germans left the city, to set up relief and communications offices for the Red Cross War Relief for Western Europe.
In 1956, she was reappointed in 1956 to a position as reference assistant in the Legislative Reference Service at the Library of Congress. She died just outside Baltimore in Hunt Valley.
Boris Netchaeff (1902-1982)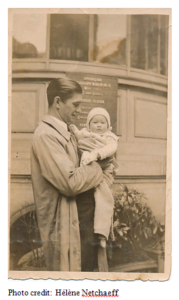 Boris Netchaeff (1902-1982) was born in the Russian town of Voin. As a child, he and his siblings learned to speak English, Italian, and German. Boris and his brothers went to cadet school in Orel, located 18 miles from their home. He fought during the Russian Revolution, though he was only fifteen. He was injured twice and came down with typhus. He arrived in Paris via Constantinople and Malta. Thanks to his English, he was able to work at the American Library, beginning in 1925. He and his wife Anna had two children, Hélène and Oleg. Boris worked at the ALP until he retired.
Clara de Chambrun née Longworth (1873-1954)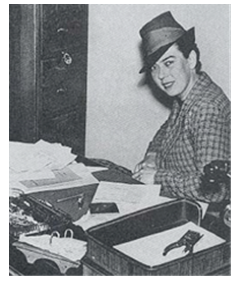 Clara de Chambrun née Longworth (1873-1954) was born in Cincinnati, Ohio. She was an accomplished writer, translator, and Shakespeare scholar. She received a doctorate from the Sorbonne at the age of 48. She married a French count, Aldebert de Chambrun, in 1901. They had two children together. Their daughter Suzanne died from heart disease at the age of nineteen. Their son René, a lawyer and businessman, married Josée Laval, daughter of Pierre Laval, who was the head of government of the Vichy regime and was killed by a French firing squad after the war.  
            Clara de Chambrun kept the American Library open, often sleeping at the ALP to watch over the collection. She had been an early champion of the Library; along with Edith Wharton, she was one of its first trustees. The other Library trustees returned to America, but the Countess stayed on. In her memoir, she writes, "In those first days after our return to Paris, what hit me hardest was an aspect I could not have forseen… the horrible and hideous symbols of German domination made the city I love, hateful." (p 142)
Hilda Frikart (1899-?)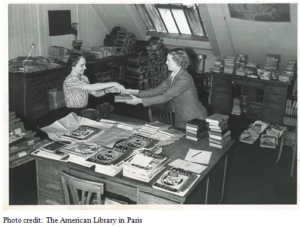 Hilda Frikart (1899-?) worked as the secretary at the Library. In the above photo, she is helping Helen Fickweiler prepare packages for the Soldiers Service. It was Miss Frikart who accompanied the Countess to the office of Hermann Fuchs when the ALP was denounced for harboring anti-German works in their collection. Her sister Florence Frikart, a résistante, was sentenced to death for typing and distributing tracts. Hilda Frikart turned to the Countess, who went to Pierre Laval, her son's father-in-law. With his intervention, the death penalty was commuted to life imprisonment. Florence Frikart was released after the war.
Phyllis Wedd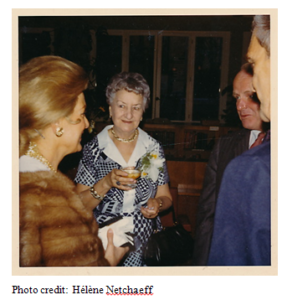 Phyllis Wedd was the British bookkeeper at the American Library. During the war, she was interned as an enemy alien. When she was released from the internment camp, she returned to work at the Library. This photo is from her retirement party in 1969.
Helen Fickweiler and Peter Oustinoff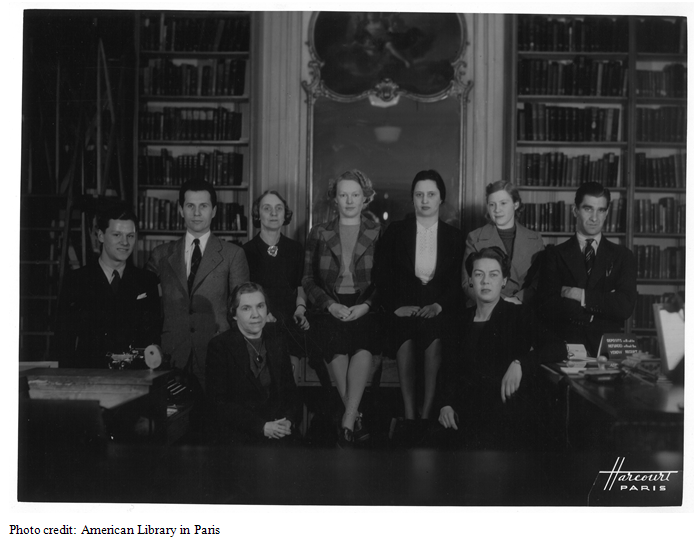 Helen Fickweiler and Peter Oustinoff, both Americans, met at the ALP and fell in love. Helen arrived in Paris just weeks before the war broke out. (Peter is the first man on the left, and Helen is the fourth from the left. Mrs. Turnbull is sitting on the left in front and her daughter is behind Miss Reeder and next to Boris).
The couple returned to the States and married. According to an article in June 19, 1941 edition of the Evening Bulletin, "Miss Fickweiler lost 12 pounds during her stay in Nazi-occupied Paris and she says she doesn't want to look at another turnip as long as she lives after being forced to consume the vegetable in so many different guises." Helen and Peter's granddaughter Alexis wrote, "Helen had been working with the resistance movement in Paris and met Peter there. He was also with the Allied forces and went on to work with the US, French, and Russian forces. Helen was a librarian in New York at the Chemists Club and later at the University of Vermont."
Evangeline Turnbull
Evangeline Turnbull and her daughter Oliva both worked at the Library until war was declared. As Canadians, and thus part of the Commonwealth, they were considered British subjects and enemy aliens. They returned to Canada in June of 1940.
William Bullitt (1891-1967)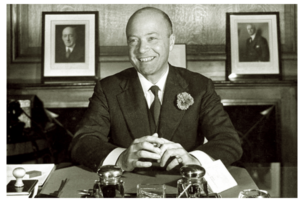 William Bullitt (1891-1967) was a journalist, author, and diplomat. In The Second World War, renowned historian Anthony Beevor writes, "The United States ambassador, William Bullitt, was so trusted by the French administration that he was temporarily made mayor and asked to negotiate the surrender of the capital to the Germans. After German officers under a flag of truce had been shot at near the Porte Saint-Denis on the northern edge of Paris, the commander-in-chief of the German Tenth Army, ordered that Paris should be bombarded. Bullitt intervened and managed to save the city from destruction."
Hermann Fuchs (1896-1970)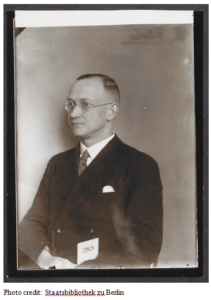 Hermann Fuchs (1896-1970) was head of the German Union Catalogue at the Prussian State Library. Some sources state incorrectly that he was the director. According to librarian Robert Giel, "He was not its director, this being Hugo Andres Krüss." After the war, Fuchs became director of the university library of Mainz.